our breathtaking newsletter
Weekly gloriousness sent to your inbox.
Friday, October 18th - 7:00 PM-2:00 AM

DERF Happy Hour
Keep checking back here to find out where the next DERF Happy Hour will be!
EDITORIAL: A certain really mean person who brought me into this world said my column is retarded.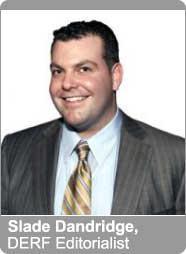 By Slade Dandridge, DERF Editorialist

I'm not one to air my family's dirty laundry but this time my Mom has gone too far. Consider this an open letter to my Mom. I will no longer communicate directly with my Mother. My only communication with her will be through this column.

In her online blog my own mother described my column as retarded. She said it is worthless and she is ashamed that her son writes it.
First of all, the only reason anyone reads mom's blog is because she is the Mother of Slade Dandridge, DERF Magazine Editorialist. So, for her to exploit my fame in order to criticize me is shameful.
This column is my life's work. I have dedicated my soul to it. It is generally considered by lofty intellectuals and avid readers to be a highly refined body of work that is the result of a great deal of talent. This is not me saying that - I am quoting comments from recent DERF focus groups. I am clearly regarded as one of the literary elite in this town.

So obviously my Mom appears to be jealous of her own son! WTF? Mom I have never revealed all of your dirty laundry like the time you became a prostitute because you wanted extra money to have the kitchen remodelled. And the time you were arrested on our family vacation at Disney World for being drunk and disorderly in the Magic Kingdom. etc., etc.
Mom, this a dangerous road to go down. There are a lot of dirty secrets I would be more than happy to reveal if you continue to criticize me in public. So if you want to wage a public war of wits, I say bring it on Mom.