our breathtaking newsletter
Weekly gloriousness sent to your inbox.
Sunday, March 1st - 12:00 PM-4:00 PM

DERF Happy Hour
Keep checking back here to find out where the next DERF Happy Hour will be!
Cindy McCain to replace Schwarzenegger in Terminator 4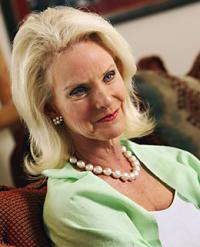 HOLLYWOOD, CA - Warner Bros. Pictures announced this week Cindy McCain, wife of Presidential Candidate John McCain, has been selected to replace Arnold Schwarzenegger as the Terminator character in the upcoming fourth movie in the Terminator series. Studio execs reportedly chose Mrs. McCain for the role based on her public persona that has occasionally been described in the media as somewhat aloof and robotic.

Christian Bale, who plays John Connor in the film, commented, "Working with Cindy McCain has been an intense experience. Cindy can be truly terrifying." Bale went on to say he often had difficulty differentiating Mrs. McCain from her character during filming. "Sometimes she has this icy stare. She really is a natural fit for this role."

Director McG said the normal preparation required to play such a ruthless character did not apply to Mrs. McCain. McG commented, "I expected she would need to spend hours perfecting the demeanor of a sinister killing machine but to my delight the normal preparation regimen was not necessary for Cindy. She walked on the set and was completely prepared."

Regarding his wife's Hollywood debut, Presidential Candidate John McCain was recently heard to say off camera, "Playing a cold and soulless machine shouldn't be a big stretch for my sweetie." A McCain campaign spokesperson later explained the comment was a private spousal comment made jokingly and not intended for the public.

Warner Bros. Pictures says in the interest of equal coverage, Michelle Obama is currently under consideration for several equally sinister character roles in the action film genre including The Bride in Bride of Chucky 2, Darth Vader in Star Wars: Episode VII, Biff Tannen in Back to The Future IV, The Alien Mother in Alien V.