our breathtaking newsletter
Weekly gloriousness sent to your inbox.
Wednesday, February 19th - 5:00 PM-9:00 PM

DERF Happy Hour
Keep checking back here to find out where the next DERF Happy Hour will be!
Adopted Jonas Brother often hidden from public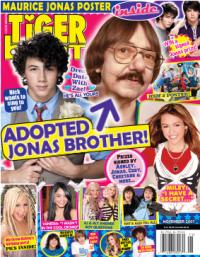 LOS ANGELES - Friends and acquaintances of the Jonas family recently learned of the family's adopted fourth brother, 44 year-old Maurice. The family has hidden Maurice Jonas from the public for most of his life to allow the entertainment careers of the other Brothers to flourish without the potential negative impact of an unattractive older brother who is learning disabled.

In an interview with Tiger Beat Magazine, Father Robert Jonas said, "Maurice may not have the sex appeal or musical talent of his younger brother's but we love him. Now that the careers of Nick, Joe, and Kevin have prospered, we believe it is safe to introduce Maurice to the public."

A Jonas family spokesperson said Maurice Jonas suffers from autism and several learning disabilities. Reportedly he has lived his entire adult life in his parents' garage which is locked from the outside to prevent Maurice from escaping and possibly harming someone or bringing embarrassment to the family.

The family said Maurice has never been to a Jonas Brothers concert because the risk of a violent episode exists due to Maurice's discomfort in large crowds. Maurice prefers to spend his time at home alone playing World of Warcraft and writing complex gaming scripting code which he taught himself on the internet. The only companion he chooses to spend time with is a rubber lizard he was given on his fifth birthday.

Nick, Joe, and Kevin stop in a few times a year to catch up with their brother. Maurice sometimes appears to vaguely recognize his brothers. Nick Jonas said, "Unfortunately Maurice doesn't seem to realize how lucky he was to be adopted into a family as successful as ours."