our breathtaking newsletter
Weekly gloriousness sent to your inbox.
Sunday, December 15th - 5:00 PM-9:00 PM

DERF Happy Hour
Keep checking back here to find out where the next DERF Happy Hour will be!
Tila Tequila autobiography to include free copy of George Bush memoirs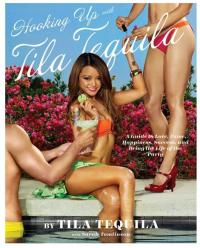 NEW YORK - In a move that has shaken the worlds of publishing and politics, publisher Simon and Schuster has packaged the book, "Hooking Up With Tila Tequila" with a free copy of the George W. Bush memoirs. Simon and Schuster officials say the strategy is intended to spark interest in the Bush memoir which has not been selling well.

Sources close to former President Bush say he is happy with the association and has never missed an episode of MTV's "A Shot at Love with Tila Tequila". Reportedly Bush found the selection process she used on the show to find a mate helpful in making executive decisions. He once asked Condoleezza Rice to wrestle Dick Cheney in a swimming pool full of chocolate in order to determine who's advice to take on foreign policy.

Fans of Tila Tequila are not sure what to make of the Bush memoirs, but some are willing to give it a chance. While standing in line to purchase his copy, book store patron Drew Schaefer said, "I bought it to look at some girl on girl pictures and read about partying and stuff. I may give the Bush Memoirs as a gag gift to my brother on his birthday."

Presidential historians can't recall any Presidential memoirs that were marketed in such a manner. It was noted that President Herbert Hoover did several book signings with Carmelita LeFeax, a famed 1920's stripper.

Miss Tequila and President Bush have promised to read each other biographies, which will mark the first books either of them have read in quite some time, including their own. They do, however, both claim to have enjoyed the book, "My Pet Goat." President Bush has requested Miss Tequila's book in a books on tape format.