our breathtaking newsletter
Weekly gloriousness sent to your inbox.
Sunday, March 1st - 12:00 PM-4:00 PM

DERF Happy Hour
Keep checking back here to find out where the next DERF Happy Hour will be!
Conan, Jay, Oprah, Ellen seek sex scandals to boost ratings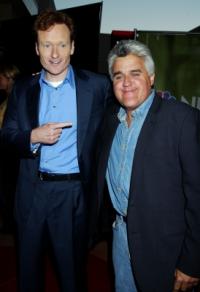 NEW YORK - After seeing the ratings increase that occurred after David Letterman admitted to having an affair with a staff member, several national talk show hosts have sought out sex scandals of their own.
Staff members for Oprah Winfrey confirm that she has approached longtime companion Steadman Graham about the possibility of consummating their relationship, preferably in a public park while being watched by tabloid photographers. Oprah's staff also claims that Ellen DeGeneres contacted the Oprah show in an effort to enlist Oprah, along with her friend Gayle King into a threesome.
Jay Leno attempted to find a partner to participate in a sex scandal as well, but has not had success. His initial plea for a partner happened on his nightly NBC show, and did not result in any takers as his target audience consists of retired ministers in their late 70's. Leno plans to continue his search by placing a Craigslist ad under the category of 'Chin Fetishists'.
Late night hosts Craig Ferguson and Conan O'Brien have had the most success emulating David Letterman's scandal so far, as they made the news in Los Angeles after getting into a fight over the last anatomically correct sex doll in a local Hustler store.

Carson Daly took out an ad in Daily Variety seeking someone to engage in a sex scandal. The ad received only one response, from American Idol host Ryan Seacrest. Although the pair repeatedly engaged in various sex acts, the publicity value was minimal, as most people already assumed they were a couple.