our breathtaking newsletter
Weekly gloriousness sent to your inbox.
Friday, October 18th - 7:00 PM-2:00 AM

DERF Happy Hour
Keep checking back here to find out where the next DERF Happy Hour will be!
Simon Cowell to leave Idol, demands custody of Ryan Seacrest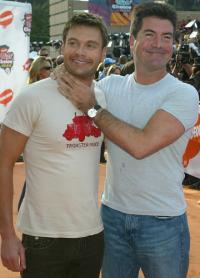 HOLLYWOOD, CA - After announcing that he will be leaving American Idol after this season, producer and judge Simon Cowell is now demanding custody of Ryan Seacrest. The potential court battle is seen as a big moment in legal history involving guardianship of diminutive metrosexuals.
Executives at FOX were stunned by the news, and have not yet established a position on the demand. FOX Network entertainment president Kevin Reilly commented, "We just want to do what's right for Ryan."
Cowell is leaving Idol to launch "The X Factor", another singing competition show, leading to speculation that he may want Seacrest to be part of the new show. Cowell quickly put this speculation to rest. "I am seeking custody of Ryan Seacrest not only for his own good, but for the good of the television viewing public. If guys like that continue to appear on television, soon the average audience is going to be so dumb that even the kind of shows I produce will be too smart for them."
A similar fight was averted when Paula Abdul sought custody of Seacrest when she left American Idol. She reportedly wanted to take Seacrest with her because she claimed he was uniquely qualified to fend off the various aliens who inhabit her backyard. Cowell promised to point out in court the many reasons why Abdul would have been a poor guardian, but the parties soon settled out of court for an undisclosed amount of prescription medication.
When asked for comment, fellow Idol judge Randy Jackson said, "Whoa dog, I'm late for CiCi's pizza lunch buffet."

Ryan Seacrest remains relatively unfazed by the news, saying, "Simon can be a meanie sometimes but I think he really likes me. I think I would much rather live with him than the new guy Ellen who's joining the show."