our breathtaking newsletter
Weekly gloriousness sent to your inbox.
Sunday, March 1st - 12:00 PM-4:00 PM

DERF Happy Hour
Keep checking back here to find out where the next DERF Happy Hour will be!
Career uncertainty grows among members of Smash Mouth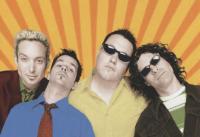 SAN JOSE, CA - The nations leading economic indicators have detected an alarming level of career uncertainty among members of Smash Mouth. The report concludes that there is no end in sight for this uncertainty.

"The other day we were playing the second stage at the Altoona Days street fair," said lead singer Steve Harwell. "I should have been thrilled that we're working at all, but it's hard to sincerely sing the words to our hit song, All Star, at gigs like that.

The other band members are just as restless, unsure of what the future holds. "I try to console myself and look on the bright side," said band member Paul De Lisle. "We've got over 400 friends on MySpace. Once we hit 500, we might tear up a hotel room or two. But I also spend lots of time on Monster.com searching the keywords 'party band bassist.'"

Economists say that the growing malaise may stem from Great Britain where career panic has also set in among members of the band, Chumbawumba, know best for their hit song, Tubthumping (also known as, I Get Knocked Down).