our breathtaking newsletter
Weekly gloriousness sent to your inbox.
Friday, October 18th - 7:00 PM-2:00 AM

DERF Happy Hour
Keep checking back here to find out where the next DERF Happy Hour will be!
Jay-Z to purchase retailer J.C. Penney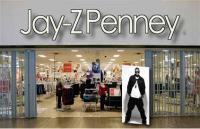 NEW YORK, NY - Retailer J.C. Penney will soon be undergoing a makeover and a name change after an impending purchase by rap mogul Jay-Z. The resulting department store, Jay-Z Penney, is expected to become a new retail force.
Jay-Z's move to the world of retail comes shortly after his wife, Beyonce took over Bed Bath & Beyond. After assisting her in rebranding the new Bed Bath and Beyonce franchises, Jay-Z decided to make his own mark in shopping centers across the country. "The new Jay-Z Penney will also be home to The Big Pimpin' seal of approval," said the influential rapper. "In fact, I was going to call it Jay-Z Pimpin', but we found that some focus groups aren't ready to buy outerwear at a store that has 'Pimp' in the name."
The newly remodeled stores will continue to feature much of what consumers have come to expect from J.C. Penney over the years including clothing, shoes, and home goods. "You'll still find the same departments, but they'll have a fresh feel," explains Jay-Z. "We got the newly retooled Young Forever portrait studios, and the jewelry is going to be so fly it'll be worth shooting your brother over."
Jay-Z's admiration of the J.C. Penney franchise began in his youth. "Back in Bed-Stuy, you knew a cat was really cool when he was rocking the Haggar Action Slacks. And not those broke-down counterfeit Action Slacks they sell in Chinatown, I'm talking J.C. Penney Haggar Action Slacks."
Promotion of the new stores is already underway. Jay-Z has made it clear that he has a beef with rival store Sears, and has issued a challenge to settle the feud via freestyle battles at mall food courts around the country. "I just want Sears to know I got 99 problems but Sears ain't one."
Related Stories