our breathtaking newsletter
Weekly gloriousness sent to your inbox.
Friday, October 18th - 7:00 PM-2:00 AM

DERF Happy Hour
Keep checking back here to find out where the next DERF Happy Hour will be!
The DERF Worst of 2010 List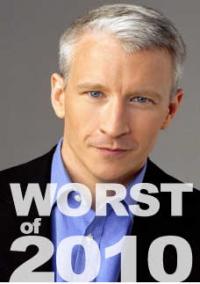 1. Painfully Long Goodbyes from Larry King and Oprah - The vast majority of America truly does not care about either person. The only people who care are others in the media. Just go away Larry and Oprah. You're both pretty useless but if we had to say who's worse, by far it's you Larry. You are one of the most talentless that television has ever offered.

2. British Petroleum – Of course everything about British Petroleum has to be on any Worst of 2010 list. It is truly sad that BP is still in business.

3. That Train Song on Every TV commercial and TV Show – You know the one. It's called 'Hey Soul Sister". It's as bad as any of the generic dribble by Maroon 5 or Jason Mraz. This year the song was featured in Samsung 3D TV commericals, the Katherine Heigle/Josh Duhamel movie "Life As We Know It", a breast cancer PSA, etc, etc. The song has also been used as a soundtrack in countless TV series and soap episodes including "CSI: New York".

4. Michael Vick Making Sportscasters Teary Eyed with His Story of Redemption – No one cares. Let's just watch the game. No reason to keep talking about it.

5. Movies with Shia Lebeouf – At his best this guy is barely watchable in a high school play. Reportedly, the 5'1", 125 lbs actor was injured several times during action scenes with the diminutive Megan Fox in the Tranformers series. Steven Spielberg said Shia LeBeouf is the greatest actor of his generation. Please Mr. Spielberg, most of us don't carry a puke bucket around with us so keep this kind of ignorance to yourself. Plus you haven't directed a decent movie since 1972 so it's probably not your place to talk about the greatest of anything.

6. The Rebuilding of Touchdown Jesus - Couldn't that $300,000 have been spent on something more charitable? There are homeless and starving children in our city but the weirdos at that church decided to spend the money on a new giant plastic mannequin.

7. Census Workers Take to the Streets Harassing America – Thank god that's over. Next time let's just count using Facebook.

8. John Boehner's Fake Crying - This peaked during a 60 minutes episode where he fake cried about five times. At some point in his life the weirdo learned to fake cry like an actor and figured that fake crying would trick people into thinking he had a deep emotional side. Grow up dude.

9. Dancing With the Stars - The only thing worse than watching this show is listening to someone who gives a crap about it. Okay there might be one thing that's worse – The Bachelor.

10. Anderson Cooper – Why is he on TV? We're confused about what is he supposed to be doing? He must be wondering the same thing. He doesn't report news. He doesn't host a talk show. He seems to read news that was usually reported several days ago. Why don't we fill his slot with something more useful and let Anderson host Dancing With the Stars. Also, he would make a fantastic waiter. While serving his customers he could keep them abreast of the news.