our breathtaking newsletter
Weekly gloriousness sent to your inbox.
Friday, October 18th - 7:00 PM-2:00 AM

DERF Happy Hour
Keep checking back here to find out where the next DERF Happy Hour will be!
Pope issues statement on condiments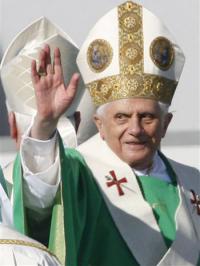 VATICAN CITY - After conferring with Cardinals and Bishops from all over the world, Pope Benedict XVI has issued a long awaited statement to the world's Catholics on condiments. The statement came as a shock to both condiment foes and advocates who had not expected the Pope to address the controversial issue.
Pope Benedict upheld the longstanding Catholic church tradition of support for tartar sauce, cocktail sauce, and malt vinegar. The church has long supported the use of these condiments, particularly on Fridays during Lent. Many papal observers were shocked to hear that the Pope has not given full support to ketchup, thinking that such support would be key to keeping younger Catholics from straying from the faith.
Pope Benedict's German roots were evident in the section of his statement addressing mustard, as he placed great emphasis on the necessity of mustard to be brown, stone-ground or horseradish based. This is seen as a slight to many American Catholics, who have been seeking recognition of yellow mustard for the last century.
The most groundbreaking news from the Pope's statement on condiments was certainly a nod to the growing Latin-American Catholic population. "We stretch our hands and our hearts openly to salsas, guacamole, and that green bottled pepper stuff they always have at Mexican restaurants," proclaimed the pontiff. "These fiery condiments should be welcomed to freely enter and pass through us all."
The Pope is expected to face criticism from the American south and Baptists as he continued the tradition of not recognizing the legitimacy of any and all dressings that could be seen as taking the place of mayonnaise. "The term 'miracle' should not be thrown around lightly," proclaimed the Pope. "Thus be it said that the Miracle Whip is not only a annoyingly sweet abomination, but blasphemous as well."