our breathtaking newsletter
Weekly gloriousness sent to your inbox.
Friday, October 18th - 7:00 PM-2:00 AM

DERF Happy Hour
Keep checking back here to find out where the next DERF Happy Hour will be!
Bin Laden posthumously submits "Dancing with The Stars" audition tape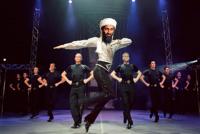 HOLLYWOOD, CA - Producers of the ABC TV show Dancing with the Stars have announced they have received a posthumous audition tape from Osama Bin Laden and have approved his appearance by video tape on the next season of the show. Bin Laden will be the most famous person to appear on the show in many years.

Producers say Bin Laden's video submission is an extensive dance compilation demonstrating the former Al Qaida leader's dance skills. Each episode of the show will feature a different portion of Bin Laden's video performance. Reportedly, Bin Laden's dance partner throughout the video compilation is a woman wearing a modest burka with an AK 47 automatic weapon strapped to her back which symbolized Al Qaida dance superiority. Also many of the dance routines are centered around a set of monkey bars, a very common item inside terrorist training camps.

"We were stunned when we received the video," said associate producer Michael Lichtenfeld. "At first we thought it was just a typical brief audition tape to demonstrate. But you can imagine our delight when we realized it was enough dance footage for an entire 20 episode season. Ultimately, Bin Laden's death is a great victory for America, but this compilation of Bin Laden dance is possibly the greatest victory ever bestowed on reality television."

Dancing with the Stars producers will now look to fill other spots on next seasons show. They have sent correspondence to North Korean leader Kim Jong-Il and Venezuelan president Hugo Chavez to gauge their interest. They have also reportedly asked the California State Board of Parole to convene an emergency hearing in an effort to release Charles Manson.