our breathtaking newsletter
Weekly gloriousness sent to your inbox.
Friday, October 18th - 7:00 PM-2:00 AM

DERF Happy Hour
Keep checking back here to find out where the next DERF Happy Hour will be!
Anderson Cooper struggles to make death of Bin Laden story more about himself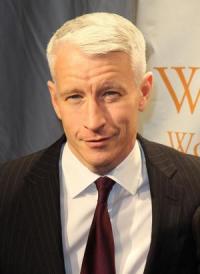 NEW YORK, NY - While covering the death of Osama Bin Laden, CNN host Anderson Cooper has found it difficult to make himself a focal point of the story. Though he is struggling, Cooper continues new ways of injecting himself into the story while anchoring on CNN.

Cooper strained to inject points about his life while reporting details of the history of Bin Laden, including a complete report of where he was on September 11, 2001. This was followed by a rundown of his daily activities on September 10th, September 4th, and a half hour discussion of a cocktail party he attended on September 3, 2001. At this cocktail party, he proudly declared that he had his first sour apple martini.

Upon hearing that Bin Laden would be buried at sea, Anderson explained his own experiences boating, sunbathing on the beach, and described each and every ride he had experienced at various water parks. He was interrupted during a story about almost losing his swimming trunks in a wave pool when CNN went to commercial.

"I only wish I could have been closer to this story's conclusion," lamented Cooper. "I wish I had been on the ground in Pakistan so I could give my viewers a more complete look at how this story looks from my beautiful eyes. And if me being on the ground resulted in getting slapped around like I did in Cairo, well that would just be part of me doing my job. Which includes lots of covering myself as I am doing my job."

Cooper also took time during the broadcast to discuss his tragic childhood as a child in a family of billionaires, much like Osama Bin Laden. He went on to discuss how his heroic triumph over a childhood diagnosis of dyslexia makes him feel closer to U.S. military special forces. "I am no stranger to extraordinary people performing in extraordinary circumstances," he said.