our breathtaking newsletter
Weekly gloriousness sent to your inbox.
Monday, December 16th - 5:00 PM-9:00 PM

DERF Happy Hour
Keep checking back here to find out where the next DERF Happy Hour will be!
Pippa Middleton's buttocks blamed for London riots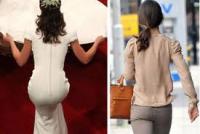 LONDON, ENGLAND - Widespread public disturbances in England which have included looting and arson are now being said to be the direct result of Pippa Middleton's buttocks. Ms. Middleton has not been available for comment on the situation, nor have her buttocks.

The riotous behavior is believed to have started as a general celebration of Pippa's buttocks, as people took to the streets England loudly proclaiming admiration for their size, general shape, and perceived texture. Subsequent involvement by British youth rose in opposition to Pippa's buttocks and created two tense factions, causing the streets to erupt in chaos.

"It's a nice bum I suppose," said London's Ainsley Whittaker. "But it is not worth the amount of fuss we've been subjected to. Night after night of people on the street screaming and holding parades to honor Pippa's buttocks. Then, after yet another Pippa buttocks celebration woke me up in the middle of the night, I finally had enough and launched a few bottles out my window at them."

The pro-Pippa Middleton buttocks crowd admits that there are factions within their ranks who have taken things too far. "We realize that for some people, the fervor is quite strong," said Tracy Wallace. "But we don't have much to celebrate here in England, so who can blame them for latching on to Pippa's arse?"

Anti-Pippa Buttocks leaders say their anger is strong, and not likely to be quelled anytime soon. "You call that a booty?" asked a masked rioter. "It's like the butt of a 13 year old boy. England needs to get back to admiring the bumcakes that have made us great. Like Queen Elizabeth, for example, she has one hell of a caboose. If you're gonna take to the streets, do it for her. God Save the Queen's Buttocks!"