our breathtaking newsletter
Weekly gloriousness sent to your inbox.
Friday, December 6th - 5:00 PM-10:00 PM

DERF Happy Hour
Keep checking back here to find out where the next DERF Happy Hour will be!
Riverbend sound system makes Bob Dylan lyrics understandable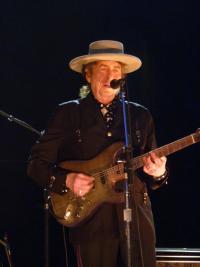 CINCINNATI, OH - Fans of legendary performer Bob Dylan were pleasantly surprised at a recent performance to discover that the sound system at Riverbend Music Center made Dylan's lyrics understandable.
The adoring crowd at Riverbend were stunned by the phenomenon. "It was almost like listening to a complete remake of every song," said Dylan fan Damien Woodson. "Somehow the whacked out speakers made his ancient slurred voice form complete words. I've seen him on tour seventeen times and this is the first time I actually knew which song he was singing without finding the set list online afterwards."
"I actually went out to the lawn to have a listen," said Jeff Tweedy of the opening act Wilco. "We've been touring with Bob for a while now, and these were the first words out of his mouth that I actually understood. I wish we could take the Riverbend sound system on tour with us. Not just so the audiences can understand Bob during concerts, but so we can understand what he is saying back at the hotel. I asked him what he wanted on his pizza last night and my best guess at what he said was 'jellyfish gerbil kibble.'"

Unfortunately for Tweedy and other acts who appear at Riverbend, the odd sonic mixture of poor acoustics and waterlogged audio equipment appears to only be of benefit to Bob Dylan. The sound system continues to make their sets sound as if they're being played from an AM radio of a 1970's Dodge while it rests at the bottom of a polluted swamp.

"The odd thing is, I almost didn't make it to this show," explained concertgoer Dan O'Brien. "I saw Kelly Clarkson here last year, and the sound system made her sound exactly like Bob Dylan, so I didn't really feel the need to see him in person. She did a fantastic encore that sounded exactly like 'Ballad of a Thin Man' from the Before the Flood live album."