our breathtaking newsletter
Weekly gloriousness sent to your inbox.
Sunday, January 19th - 11:00 AM-5:00 PM

DERF Happy Hour
Keep checking back here to find out where the next DERF Happy Hour will be!
CNN reveals bullied bus monitor actually Piers Morgan working undercover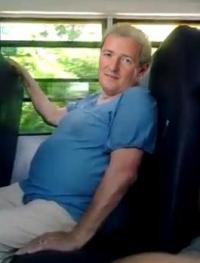 ROCHESTER, NY - CNN has announced that the subject of bullying in the now famous school bus monitor video is actually CNN host Piers Morgan. Morgan was riding the bus working an undercover story about American teen culture, when he was subsequently bullied and made to cry.

Morgan was visibly shaken by the abuse he took on the bus, and has been in seclusion until finally coming forward with the story. He believes that it will take a great deal of time for him to recover from the emotional wounds. "I could not believe the words that were coming from them," said a still emotional Piers Morgan. "The little filthy beasts just would not let up on me. I'm not sure that I have ever been in a more uncomfortable position, and that includes interviewing Paula Abdul."

Morgan was wearing the disguise for a series of stories the network was planning to run on the life of teens in America. "We were pretty proud of the make-up job," said producer Jeremy Lambert. "Although it is much easier to make Piers look like an old lady than you would think. The really weird part is he supplied his own wardrobe."

CNN has announced that Piers Morgan will be given several weeks of paid vacation in order to recover from the ordeal. "I just want to be alone for a while," he explained. "I appreciate everyone being so supportive. Although, I am rather creeped out by the phone call I got from Larry King. He told me he wanted me to come over wearing the bus monitor costume so he could give me a good cheering up."