our breathtaking newsletter
Weekly gloriousness sent to your inbox.
Wednesday, February 19th - 5:00 PM-9:00 PM

DERF Happy Hour
Keep checking back here to find out where the next DERF Happy Hour will be!
FOX19ís Frank Marzullo struggles daily with own adorableness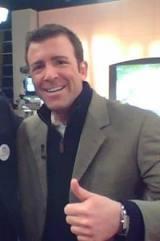 CINCINNATI, OH - Despite the ease with which he appears to conduct his duties as a FOX19 meteorologist and morning show co-host, Frank Marzullo actually struggles on a daily basis with the plague of his own adorableness.

Marzullo recently announced his plight in hopes that his story can help others who struggle with being chronically adorable. "It's not easy," explained Frank, as adorable tears welled up in his adorable eyes. "It is hard to focus, hard to concentrate, hard to think about much of anything else besides how adorable I am. It takes me an hour just to brush my teeth because I get distracted by my reflection in the mirror after each stroke of the brush across my adorable teeth."

Frank is thankful for the support of family, coworkers and friends who help him with his struggle. "I'm glad I have a support system like this," he said. "Especially the fans. Whenever I get too caught up in my own adorableness, I check out my Facebook fan page. I scroll through the pictures and look at how plain and ordinary and sometimes downright homely those people are. It's good for a laugh and to divert my attention. Although, sometimes, the haus fraus on there end up complimenting me on how adorable I am and I have to find something else to do."

Frank says that the struggle has always been a part of his life. "I always knew I was different," said the adorable meteorologist. "Growing up, I saw the other kids I went to school with and knew they were not the same as me. Sure, a few experimented with being adorable, but none of them pulled it off. And certainly, none of them were able to achieve it 24/7 like me. Finally, in 9th grade, I had a gym teacher pull me aside after class and explain it to me. He let me know that I am adorable and that I should be proud of it. From there, I sought to find more of my own kind. That's why I went into TV news."

Despite the struggle with his own adorableness, Marzullo has performed his job admirably. He has a seal of approval from the National Association of Meteorologists, and was just nominated for an Edward R. Murrow award for excellence in adorability. "I just hope that I can be an inspiration for other adorable people out there," Frank insists. "I'm going to just keep working hard and being the best adorable person I can be."