our breathtaking newsletter
Weekly gloriousness sent to your inbox.
Sunday, March 1st - 12:00 PM-4:00 PM

DERF Happy Hour
Keep checking back here to find out where the next DERF Happy Hour will be!
JayZ hires Chris Brown as bodyguard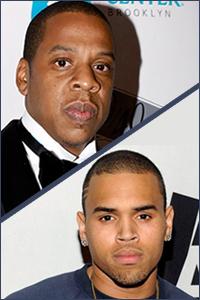 LOS ANGELES, CA - After an apparent attack from his sister in law Solange Knowles, Jay Z has taken precautions to ensure that he is never harmed again. Recording artist Chris Brown has reportedly been hired to act as Jay Z's bodyguard.

"The world may never know what happened between Solange and Jay Z," said Jay Z publicist Karen Acton. "But we hope that everyone knows that this type of incident will never be allowed to take place again. Jay Z can now rest secure in the knowledge that he is being protected by a powerful guardian. And Chris Brown can rest secure in the knowledge that he has a job that will keep him off the streets for awhile."

Chris Brown is well known in the music community, and the law enforcement community, for his ability to forcibly and often proactively protect himself. "I'm not just a violent thug," Brown explains. "I am well trained in the art of combat. It's not just about violence either. I gain my powers from a whole body approach of not only slapping with my hands, but making sure to properly nourish my body with all manner of both legal and semi-legal intoxicants."

Brown hopes that violence will not be part of his role as bodyguard. "I'm hoping that word got around that I mean business," Brown said. "I'm pretty sure Solange and Rhianna go to the same hairdresser, so I'm sure it has."

Chris Brown's duties as bodyguard to Jay Z are expected to begin immediately. Or, as soon as he is allowed a work release from the jail sentence he is currently serving for violation of his anger management rehab status.