our breathtaking newsletter
Weekly gloriousness sent to your inbox.
Sunday, March 1st - 12:00 PM-4:00 PM

DERF Happy Hour
Keep checking back here to find out where the next DERF Happy Hour will be!
Members of One Direction admit they were the ones booing Justin Beiber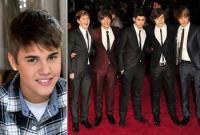 LAS VEGAS, NV - Justin Bieber was greeted by boos from the assembled audience at the Billboard Music Awards after saying that he was an artist and deserved to be taken seriously. Members of the boy band One Direction now admit that they were leading the chorus of jeers.

"We are so sick of talentless pretty boys," said One Direction member Liam Payne as he applied some bronzer while getting his hair done. "We decided to take a stand as a group against Justin Bieber for making a mockery of the music business. We're also really mad at him because he beat us out for the cover story in this month's Tiger Beat magazine."

The chorus of boos that erupted from One Direction caused many others at the music awards to join in. "We weren't sure at first who started booing," said the event producer Kevin Schaefer. "But then we heard that they were booing slightly off key at first, and then used an autotune machine to regulate their booing into a clear, poppy beat that makes the pre-teen girls swoon. That narrowed it down to 75% of the people in the room. But then they stood up, so we knew it was One Direction."

"I'm really sad that it happened," said Justin Bieber. "I try to ignore all of my haters. I was going to call them out and say something, but unfortunately my speech had been pre-recorded and I was just lip-synching the words. Otherwise, I would have really let those guys have it."

It was also noted that former teen heartthrobs The Jonas brothers were booing as well. Their boos were not heard as well as the others, however, because they were outside the auditorium working as valet parking attendants while they were booing.