our breathtaking newsletter
Weekly gloriousness sent to your inbox.
Monday, April 6th - 1:00 PM-1:00 PM

DERF Happy Hour
Keep checking back here to find out where the next DERF Happy Hour will be!
Thousands of tickets still available for LumenoNorwood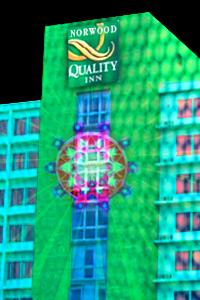 NORWOOD, OH - Many people around the Tri-State were disappointed by the quick sellout and lack of ticket availability for Cincinnati's LumenoCity. There is, however, some good news for those people, as thousands of tickets remain for the city of Norwood's celebration: LumenoNorwood.

"I was on Ticketmaster as soon as LumenoCity tickets went on sale," said Oakley resident Karen Rowland. "Of course, just like any experience anyone has ever had with Ticketmaster, I ended up being disappointed. So I suppose it's good news that there are still so many tickets left for LumenoNorwood. Although, I have no idea what it is, or what in the world Norwood has that would look good while illuminated. But the good part is, the tickets are being sold at Monty's on Montgomery bar instead of through Ticketmaster. Much more reputable sellers."

"LumenoNorwood will be a one of a kind live illuminated concert experience like this city has never seen," said event organizer Christopher Comer. "It might not have the full orchestra or professional lighting that takes place in Cincinnati, but we happen to be very proud of the boom box that DJ Kev Kev is going to bring by and the Mayor has promised to let us use city issued batteries for our colored flashlights."

The event will take place in several locations around the city of Norwood, which lessens the chance of overcrowding. "The most popular spots might eventually sell out," said Comer. "I know we've had a lot of interest in the show that will take place at The Salvation Army thrift store over on Park Ave. The best part about that location is you can get some shopping done after the spectacular show is over."
The show will also take place at the Norwood Quality Inn. The police plan to temporarily remove drug dealers and prostitutes from the area around the hotel.
Despite the enthusiasm from organizers, LumenoNorwood is not expected to be widely attended and the thousands of available tickets seem destined to remain unsold. "I'm not buying tickets to see stuff get lit up in Norwood," said skeptical resident Terry Harper. "This city looks a lot better in the dark. And if you really wanna see a light show in Norwood, just wait for a cop car to show up somewhere and light up a public intoxication arrest."