our breathtaking newsletter
Weekly gloriousness sent to your inbox.
Monday, April 6th - 1:00 PM-1:00 PM

DERF Happy Hour
Keep checking back here to find out where the next DERF Happy Hour will be!
Norwood Fashion Week features latest trends in jean shorts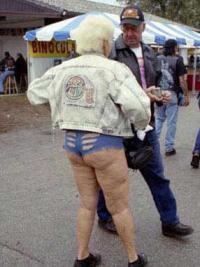 NORWOOD, OH - The world of fashion has its eyes on the Tristate, but Cincinnati Fashion Week has been eclipsed by the Fashion Week held in Norwood. Designers and fashion experts from New York to Paris to Milan have been blown away by the fashion forward trends in jean shorts on display in Norwood.

Norwood has long had a reputation as being the center of the jean short fashion universe. This has been especially true in recent years as Norwoodians have gone out of their way to celebrate them. "Jean shorts are the new black," said noted Norwood fashionista and bartender at The Dew Drop Lounge Candy McMannis. "I have dozens of pairs. I make my 6 year-old hold onto them here at the bar in case I want to change during my shift."

Norwood first came into jean short fashion prominence in the 1990's, about 20 years after their stylish debut on the popular 70's TV show, "The Dukes of Hazzard". The trend made its way to Kentucky and Indiana, where designers referred to the look as "Ensemble a la Norwood."

"Jean short fashion in those days were all about the cut-offs," said Norwood Fashion Week organizer Cathy Amelia. "You couldn't swing a dead cat in Norwood without hitting someone wearing them. Literally. We tried this theory several times, because in addition to jean shorts, Norwood is also known for a large number of dead cats."

Current trends in Norwood jean short fashion include the belted jort and the bedazzled jean short culottes which feature colored rhinestones. Also extremely popular are the new form-fitting jean short leggings, known in the industry as the "Norwood Camel-trois". Another staple in jean short pairing is the scandalously short tube top which exposes the classicly plump Norwood midriff.

"The jean shorts you see in the Norwood fashion world are so very chic, and so very sensible," says NorwoodChic.com blog publisher Wanda Shallot. "Whether you're mowing the grass around the engine block in your yard, smacking your kid before heading outside for a smoke at Quatman's, or flagging down a car on Montgomery road for a ride to the bowling alley...you'll be looking and feeling great. Plus, I love the new jean short color palate which can be used to match any shade of skin rash, C-section scar, or back hair."
Related Stories