our breathtaking newsletter
Weekly gloriousness sent to your inbox.
Friday, January 24th - 4:00 PM-9:30 PM

DERF Happy Hour
Keep checking back here to find out where the next DERF Happy Hour will be!
Taylor Swift sends Kanye West some soon to expire coupons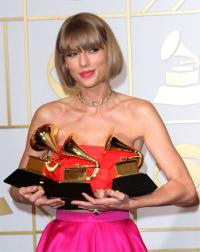 LOS ANGELES, CA - News of Kanye West's financial troubles has shocked the entertainment world and the public and large. While many are confused and unable to figure out ways to help, others are taking whatever action they can. Taylor Swift has taken it upon herself to offer assistance by sending Kanye a package of soon to expire coupons in hopes that it will alleviate some of his financial concerns.

The package of coupons reportedly contains discount offers for several establishments near West's home. "If Kanye acts quickly, he can really help his financial situation," said Swift's spokesman Brad Angle. "He can save ten bucks on an oil change. He can save up to 20% at Bed Bath and Beyond. He can take Kim out for a romantic night at Applebee's and save five dollars off the total bill not including tip and alcohol. At this rate, he should be back up on his feet in no time."

"I truly hope it helps him out," said Taylor Swift. "I know it seems like there should be more bad blood between us, but I just can't stay mad at anyone. I would have sent him some coupons that are not close to expiring, but I am planning on using them all very soon. I did not send soon to expire coupons to be mean. I did it because, despite him being very mean to me, I just can't stop being a wonderful, nice person. There is no off position on my sweet and adorable switch."

West has not made any comment on the soon to expire coupon gift from Swift, and it is not known whether or not he will use them. However, it has been reported that his wife Kim Kardashian has met with her legal team to ensure that she receives a fair share of any and all coupons when the couple inevitably files for divorce.