our breathtaking newsletter
Weekly gloriousness sent to your inbox.
Thursday, December 12th - 5:00 PM-9:00 PM

DERF Happy Hour
Keep checking back here to find out where the next DERF Happy Hour will be!
Ted Nugent puts Downton Abbey DVRs on hold to attend State of the Union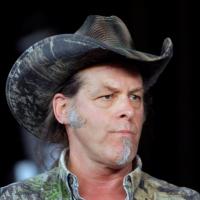 WASHINGTON, DC - Despite looking forward to a relaxing week catching up on the PBS period drama Downton Abbey, Ted Nugent accepted an invitation from President Barack Obama to attend the State of the Union address. Mr. Nugent's DVRs of Downton Abbey will remain on hold for the foreseeable future.

"The gripping drama of early 20th century England shall have to wait," explained Mr. Nugent. "Though I long to find out the fate of Mr. Bates and see how things are going with the newly married Matthew and Mary, I'm going to have to put those plans on hold. Much like many turn of the century Brits heard the call of duty for dear old England in World War One, it is my duty to serve my country by watching this speech, making faces at the President to delight the Fox News crowd. They're gonna love it. But not as much I'm gonna love seeing if that dastardly Lady's Maid O'Brien finally gets what's coming to her."

Nugent was invited to watch the speech as a guest of Texas Representative Steve Stockman. Stockman is impressed by Ted Nugent's acceptance of the offer, especially under these circumstances. "When I first called him, I had no idea he was behind on Downton," said Rep. Stockman. "Honestly, I admire his strong will and patience to be able to DVR it. I have no idea how people are able to wait any amount of time to see a new episode! I know that every Sunday, the local chapter of the NRA meets at my house to have a viewing party. We all dress in period costumes and have contests afterward. Last week, I won a set of new stationary for being voted "Best Imitation of the Dowager Countess.""

Nugent says he hopes to get caught back up on the series as soon as possible. "I've been putting it off way too long," said the Motor City Mad Man. "Plus, in a fit of conservative rage I shot up my televisions because they are tools of the mainstream media and PBS is a socialist organization that is trying to indoctrinate our children into becoming drones of the nanny state. But, alas, the charming call of Downton soothed my savage inner beast and I'm now as calm as Mr. Carson during dinner service in the parlor."