our breathtaking newsletter
Weekly gloriousness sent to your inbox.
Sunday, March 1st - 12:00 PM-4:00 PM

DERF Happy Hour
Keep checking back here to find out where the next DERF Happy Hour will be!
Cincinnati traffic at standstill in anticipation of December snowstorm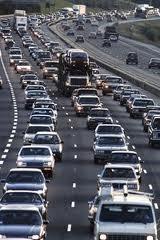 CINCINNATI, OH - Tristate roadways have been at a standstill of late as panicked drivers anticipate the inevitable snowstorm that will surely hit the area in December. Highways and side roads from Mason to Florence have been slowed to a crawl, leading to commutes lasting hours longer than usual.

Interstate 75 has been backed up from the northern suburbs through Richwood, KY while Cincinnati motorists have inched along and gripped tightly to their steering wheels, anticipating the flurries. "There is no sense in being a hero," said Kathy Cartwright from Mason. "You've got to take it slow and steady. I would not be on the roads at all right now, but I need to get to Kroger so I can stock up on tuna and bottled water. I have a feeling this December storm is going to be a rough one."

Reports of an actual snowflake last week only served to heighten the panic. Many drivers took the news of the snowflake so seriously that they pulled off to the side of the road, and have refused to move their cars again until spring. "It's not me I'm worried about," said an overwrought David Henley as he abandoned his car and began walking from the Norwood lateral to his West Chester home. "It's all these other crazies."

The panic was helped on by the Cincinnati media. WKRC-TV meteorologist Tim Hedrick spent the majority of his weather report describing the dangers of black ice and low visibility. Hedrick's continued effort spent warning drivers of potential winter storm automotive death has resulted in a lifetime achievement award for Excellence in Winter Storm Hyperbole.

"The Cincinnati area is a special place when it comes to winter driving," explains psychologist Dr. David Humphries. "Perhaps the drivers are more apt to react because of the varying elevations and the many winding, curvy roads. Or, more likely, it is because much of the population suffers from depleted brain cells as a result of heavily polluted air and water. Either way, it is fun to watch."

Whatever the reason, driver Kevin Haas promises to continue being cautious as the threat of snow lingers in the air. "Back in '05, I had to get home to Milford after working all day in Mt. Lookout," he explains. "I finally made it back in the spring of '08. So I hope everyone can understand why this potential storm has me all sweaty. Well, I'm also sweaty because it's in the high 60's today, but mostly, it's the threat of snow."