our breathtaking newsletter
Weekly gloriousness sent to your inbox.
Sunday, March 1st - 12:00 PM-4:00 PM

DERF Happy Hour
Keep checking back here to find out where the next DERF Happy Hour will be!
Men begin faking illness in anticipation of new Twilight movie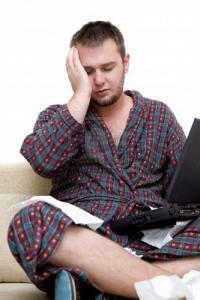 CINCINNATI, OH - As the newest edition of the Twilight saga hits movie theaters, men have begun faking illnesses in hopes of not having to accompany their ladies to see the film.

The latest movie in the Twilight Saga series, Breaking Dawn, is expected to be a box office hit among women and among men who enjoy watching wispy vampires. In other words, among men who are not likely to have girlfriends. Waves of fake illnesses have swept the nation around the time of each of the movies release. "We are on high alert here at the Center for Disease Control," said spokesman Dr. Kevin Swann. "Fake illness to avoid going to chick movies is a problem that has plagued our nation since The Wizard of Oz came out in 1939.

The fake illnesses range from chest colds, to shingles, to even more severe maladies. "I faked meningitis to get out of seeing the last movie," said area boyfriend Steve Gadd. "So I decided to kick it up a notch and tell my girlfriend I have prostate cancer. It was a pretty smart move, should keep me from having to go ice skating on Fountain Square."