our breathtaking newsletter
Weekly gloriousness sent to your inbox.
Wednesday, February 19th - 5:00 PM-9:00 PM

DERF Happy Hour
Keep checking back here to find out where the next DERF Happy Hour will be!
Investigation reveals honey badger does care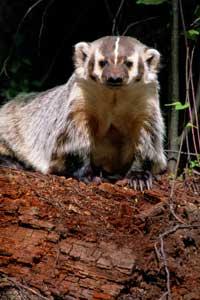 NAIROBI, KENYA - Researchers from the World Wildlife Federation in conjunction with the United Nations wildlife task force have come to the conclusion that the honey badger, in fact, does care.

"Honey badger has developed an unfair reputation in recent years," said researcher Dr. Kevin Obswam. "There is no doubt that he is fearless as he goes after prey. There is no doubt that he can often be reckless as he navigates his way through the wild. But we want the world to know that at the end of the day, Honey badger do care."

Extensive testing was done on honey badger to gauge the degree to which he cares. Electronic probes were put in place to monitor honey badger's reactions to various stimuli. Scientists discovered that the receptors that initiate and control the emotion of caring in honey badger were no less evolved than that of most other mammals. "We found that honey badger's senses of sympathy and empathy were rather evolved," said Dr. Obswam. "In fact, we found that honey badger needed to be sedated, because he cared a little bit too much about having the probes attached to his head. Mauled three of our vet techs pretty good."

Researchers discovered that honey badger cares most about friends and family, and cares deeply about making sure that they celebrate the holidays together. Honey badger also cares about global warming, man's inhumanity to man, BCS football rankings, gluten free cooking, and sunrises. Honey badger has also been known to cry like a little girl while watching Terms of Endearment.