our breathtaking newsletter
Weekly gloriousness sent to your inbox.
Sunday, March 1st - 12:00 PM-4:00 PM

DERF Happy Hour
Keep checking back here to find out where the next DERF Happy Hour will be!
The Derf Magazine Worst of 2011 List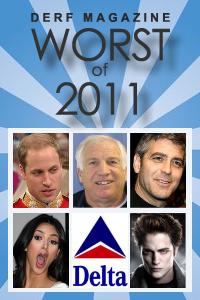 Thanks to everyone who submitted ideas on Facebook and Twitter. But mostly thanks to WorstFinder3000, our proprietary new horrible news finder technology (Also known as USA TODAY to some).

1. Royal Wedding: We all know even real British accents are fake British accents. So listening to British people speaking for seventy-two straight hours about their inbred royal family was excruciating. To Amercans, members of the British Royal Family are like zoo animals...they're fun to watch but they don't serve any purpose.

2. Clooney Watch 2011: The twitterverse, which, by the way, loves referring to itself as the twitterverse pointed out every 1.3 seconds that George Clooney was in town. It also let us know which bar stool he was sitting in and which restroom stall he used. It kept us up on his whereabouts day after day after day after day after day. Way to make a small town look like a giggling school girl that has never seen a celebrity before.
3. New Twilight Movie: We are firmly on team "Plane Crash Kills Entire Cast of Twilight."
4. Tim Tebow Mania: Only about 500 people care to hear about this dude. He's a joke to the rest of us. Shouldn't he be in church on Sunday?
5. Jerry Sandusky: No one was happier about this story than Ohio State fans. Kinda makes getting some free tattoos seem even more innocuous. In fact, Brutus Buckeye claims to be one of Sandusky's earliest victims. Seriously, if we had our way we would send Jerry Sandusky back in time on a little vacation to Zanesville Ohio on October 18, dressed in a bear suit.
6. FOX19 Reality Show: Let's not try that again, ok? Hopefully someone's annual performance review included clear instruction to never again hand over the entire writing and production process of an ill-conceived reality show to a local community college.
7. Delta Monopolistic Practices: Once again Delta gets the award for the highest ticket prices in the city. Eventually Delta will be down to one flight a day out of CVG. And a ticket for that flight will cost ten billion dollars.
8. Arnold's Love Child: What do you do when your wife looks like Skeletor? Have sex with the maid who looks like He Man.
9. Casey Anthony Hype: She may have killed her kid, but her trial caused millions of Moms to stop paying attention to their own children while they watched that screeching hag Nancy Grace talk about her trial. The only thing that would have made us all feel a lot better about the verdict is if a local guy who owns a few Cincinnati restaurants would have taken out a full-page attack ad in the Orlando Sentinel.
10. Honey Badger Inaccuracies: Due to a false report by an amateur Youtube naturalist, almost everyone now believes Honey Badger don't care. The truth is the studies overwhelmingly indicate Honey Badger do care.

11. Everything Kardashian: The Kardashian topic is already our list leader for worst of 2012 also. What can we say? This has been painful. Are we all secretly hoping for a plane crash?