our breathtaking newsletter
Weekly gloriousness sent to your inbox.
Wednesday, February 19th - 5:00 PM-9:00 PM

DERF Happy Hour
Keep checking back here to find out where the next DERF Happy Hour will be!
Northside S.W.A.T. standoff ends in fabulous S.W.A.T. dance off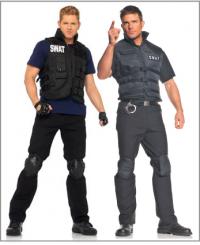 CINCINNATI, OH - A tense standoff in Northside eventually became an event that will be forever known as the Northside SWAT dance off of 2012. Many residents feared that injury and possible death would occur during the standoff, but were pleased at the fabulousness of the resulting dance off.

"I could see it all from my apartment window," explained Northside resident Peter Michael. "On one side it looked like there was an angry mob who had taken a hostage or something, and then on the other side you had the SWAT team with their sleek black uniforms and their shiny helmets. You could cut the tension with a knife. But then, out of nowhere, the streets filled with some of the most fabulous dance moves I've seen since my last trip to Club Adonis."

No one is certain what started the tense standoff. However, everyone is certain that the fabulous dance off began after a member of the SWAT team began peppily blowing on a glittery whistle. In no time, people from both sides of the standoff spilled into the streets and began dancing. Though the dancing was competitive, a lively fabulous spirit filled the air.

"I'm not sure where the DJ came from," said witness and dance participant Steven Christopher . "But I guess you're never more than a few feet away from a good DJ in Northside. He started spinning some 80's dance grooves and there was some serious cabbage patching and running man going on. Some of the SWAT team guys were awesome dancers, I'm not sure I can tell you who they were, they all kept their ski masks on for the entire night."

The resulting dance off was mostly friendly, though some catty remarks were exchanged. There was no winner declared, instead all parties involved went to The Comet for ginger ale, burritos, and to play some more fabulous dance music on the jukebox.