our breathtaking newsletter
Weekly gloriousness sent to your inbox.
Wednesday, February 19th - 5:00 PM-9:00 PM

DERF Happy Hour
Keep checking back here to find out where the next DERF Happy Hour will be!
Clermont County kicks off summer with "Leave Your Kid in a Hot Car Outside of Wal-Mart Fest"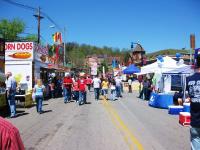 BATAVIA, OH - The arrival of summer is never far away when Clermont County announces its annual "Leave Your Kid in a Hot Car Outside of Wal-Mart Fest." The annual celebration is a summer staple in Clermont County, and residents are already anticipating this year's festivities.

"This is one of those events that make Clermont County so special," said Chamber of Commerce President Archie Meecham. "Hundreds of folks from all around the county will gather in a parking lot celebrating our special knack for child rearing. We are happy to report that this event gets bigger every year, which is odd because you'd think it would thin out the population."

The festival will feature crafts, food, and rides for any children who eventually make their way out of the hot cars. There will also be a WalMart fashion show for moms, demonstrations on how to efficiently beat your children in a crowded shopping aisle, and a performance by the nationally renowned Kids on Leashes Drill team.

"I wait all winter for this festival," said Clermont resident Barbara Stone. "With all the horrible stuff in the world nowadays, it's good to have a nice old fashioned event like this. I love it because I can bring the whole family. Then, I can leave them in a hot car while I go enjoy myself."

41 year-old Batavia Resident Kenny Fulsom will receive an award at this year's festival for managing to survive in a hot car for over 36 years. Fulsom was left in the car behind a barn by his mother in 1976. He wasn't discovered until this year when Wal-Mart executives toured the plot of land for consideration as an expansion site.