our breathtaking newsletter
Weekly gloriousness sent to your inbox.
Sunday, March 1st - 12:00 PM-4:00 PM

DERF Happy Hour
Keep checking back here to find out where the next DERF Happy Hour will be!
New Washington Park murals to honor great winos in park history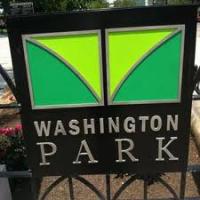 CINCINNATI, OH - Residents from across the Tri-State are thrilled with the renovations and rebuilding of Washington Park. The park will soon be the site for a series of murals which will pay tribute to some of its finest wino residents over the years.

"We're happy to have this opportunity to honor the park's rich wino history," said park board member Kevin Schaefer. "And the murals are going to be beautiful works of art. Rich colors, detailed likenesses of the winos faces, and some revolutionary new interactive art. Kids will be able to use all of their senses: feeling the wino's scruffy beards, hearing their bodily noises, and even a scratch and sniff area."

Some of the more colorful winos who will be featured include the infamous Wild Billy who lived in the park from the late 1970's until renovations began several years ago. Wild Billy was well known in the wino community for his ability to bring a smile to anyone's face, simply by touching the corners of their mouths and pushing upward. "I'm just glad my picture will be in the park, even if I'm not allowed to live there anymore," said Billy. "I liked meeting that artist kid who is gonna paint my picture. I'm not sure if it will just be my face or a full body picture, but I got naked just in case. I'll have to stop by and see it next time I go to brunch at Senate."

The mural will also feature Washington Park's first wino, Sad Sammy who first began roaming the grounds in the mid 1850's. "Legend has it that Sammy set the bar high for all the many winos who would follow in his footsteps," said artist Maryanne Levine. "He would become quite intoxicated each day before noon, and would often entertain park goers with an impersonation of Abraham Lincoln. He would use a wine bottle for the stove pipe hat, and his own vomit as a beard."