our breathtaking newsletter
Weekly gloriousness sent to your inbox.
Sunday, March 1st - 12:00 PM-4:00 PM

DERF Happy Hour
Keep checking back here to find out where the next DERF Happy Hour will be!
Smiley Face admits long-term use of anti-depressant medications.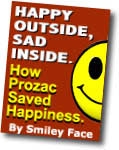 NEW YORK - After being invented around 1970, Smiley Face embarked on the daunting mission of representing happiness around the world. First he appeared on a few buttons but then quickly became a ubiquitous icon appearing on everything from bumper stickers to t-shirts. Over the course of the next few years, the overexposure and societal pressure to appear happy became overwhelming. "You can't imagine the pressure of literally being the face of happiness." Said Smiley Face while promoting his new book entitled "Happy Outside, Sad Inside - How Prozac Saved Happiness.", in a recent appearance before an empathetic audience on the Dr. Phil Show. Smiley Face went on to share several shocking revelations to Dr. Phil and the studio audience. "Public expectations were forcing me to be someone I wasn't - this may come as a surprise but I'm not naturally a happy person! You see, on the surface everything seemed fine but deep down I was battling a deep depression caused by chronic low self-esteem. No one ever asked me how I really felt." Eventually, as the burden of public pressure became too much, Smiley Face sought professional help after several unsuccessful suicide attempts. He was prescribed a daily regimen of Prozac and Xanax that has stabilized his mood and allowed him to meet his professional obligations. Also for mood improvement, Smiley Face recommends attending the next Derf Happy Hour!