our breathtaking newsletter
Weekly gloriousness sent to your inbox.
Sunday, March 1st - 12:00 PM-4:00 PM

DERF Happy Hour
Keep checking back here to find out where the next DERF Happy Hour will be!
SNOW STORM WRATH: Madeira High School Spaghetti Dinner cancelled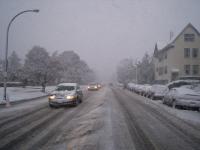 CINCINNATI - The Tri-state's most recent snow storm has ripped through the area leaving a trail of devastation and heartbreak. Countless residents faced extraordinary challenges as the storm interrupted the rhythm of daily life. The cancellation of the Madeira High School Spaghetti Dinner left residents confused and searching for answers. "This dinner only comes once a year." said Madeira resident Mark Paulsen. "Also, we just heard trash pick-up will be a day late this week. I don't know how much of this my family can take."

The Montgomery Recreation Center cancelled all water aerobics classes this week leaving dozens of water aerobics enthusiasts desperate for signs of hope. Residents of Campbell County were grief stricken and helpless when the Post Office cancelled its display of historic Kentucky coins. Norwood's Our Lady of the Woods Pancake Breakfast was cancelled despite heroic efforts by city leaders to make alternate arrangements. McCauley High School students wept in hopeless sorrow when the Spirit Quilt planning meeting was cancelled.

Legendary former NEWS 5 Chief Meteorologist Derek Beasley contacted many of his Cincinnati friends to explain it is normal for adverse weather to make people feel like their world is crumbling. "I wish could be there in person to help people cope. I want everyone to know I'm scared for you but I know you'll be okay. For now I urge you to gain strength through the posts on my Facebook page. Let my status updates guide you like a lighthouse bringing ships to shore."

After surveying the devastation, Mayor Mallory offered words of consolation, "The resilience of our people will help us to return to normalcy. I am confident we will recover from the devastation of this snow storm just like we recovered from the great snow storms of 2009, 2008, 2007, 2006, 2005, 2004, 2003, 2002, 2001, 2000, 1999, 1998, etc".