our breathtaking newsletter
Weekly gloriousness sent to your inbox.
Wednesday, February 19th - 5:00 PM-9:00 PM

DERF Happy Hour
Keep checking back here to find out where the next DERF Happy Hour will be!
Valentine's Day cookie causes fatal cardiac arrest.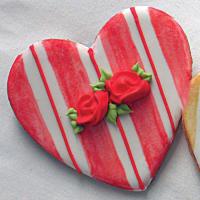 CINCINNATI - University Hospital officials released a report today indicating high levels of unsaturated fat and trans fatty acids in several heart-shaped cookies purchased from local bakeries. The cookies caused severe arterial blockage that led to the cardiac arrest and sudden death of a local man.

As a loving Valentine's Day gesture, the man purchased a dozen of the cookies for his wife. The couple enjoyed the treats until the unhealthy cookie ingredients clogged the man's arteries and stopped the flow of blood to his heart. Emergency paramedics did not arrive at the scene in time to revive the man. As a gesture of loving gratitude the victim's wife gave the rescue workers the remaining Valentine's Day cookies.

Doctors also indicated the cookies contained high levels of high fructose corn syrup, refined sugar, and monosodium glutonate which may have triggered several new cases of type II diabetes and possibly the newly discovered Type III diabetes.