our breathtaking newsletter
Weekly gloriousness sent to your inbox.
Sunday, March 1st - 12:00 PM-4:00 PM

DERF Happy Hour
Keep checking back here to find out where the next DERF Happy Hour will be!
EDITORIAL: I'm about to unleash a ringtone on my friends that will rock their world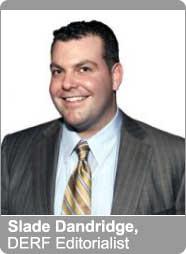 By Slade Dandridge, Derf Editorialist

I visited a website this week where I downloaded a ringtone that will finally give me the respect I deserve amongst my friends. This ringtone is everything people want in a ringtone. It is simple yet sophisticated. Powerful yet subtle. It has changed my life and everyone I know will want it. Not to brag but Iíve owned a cell phone since 2005 so obviously Iíve heard a lot of ringtones. I think that qualifies me to say with some authority this ringtone absolutely shreds other ringtones. There's no comparison. This ringtone ushers in a new era of ringtones. I suspect my friends will be so blown away by my new ringtone that at first they will pretend they haven't noticed it. But inside they will be shaken to the core and they will not know how to react. They will shudder with longing and envy. Deep down they will feel an uncontrollable desire to have the same ringtone. Rather than ask me where I found it they will first search the internet frantically to find it themselves. But they wont be able to find it because the site I found it on is pretty obscure. Eventually they will all have to come crawling to me to find out where I got it. Trust me, this ringtone is that amazing. When I first heard it I was mesmerized. It reminded me of the first time I heard 50 Cent's hit song, It's Your Birthday. The beat, composition, and lyrics of that song brought me to my knees. This ringtone had the same effect on me. At this point I would prefer not to divulge the website where I got the ringtone because then everyone will get it. For now I would like to be one of the few people locally who have this ringtone. I feel it somewhat distinguishes me from everyone else. For now at least I see it as my edge. Next month I may be respected if I discover a new bottled water or a credit card that offers obscenely high points but for now this ringtone is the thing that separates me from all the losers with totally unoriginal ringtones.