our breathtaking newsletter
Weekly gloriousness sent to your inbox.
Sunday, March 1st - 12:00 PM-4:00 PM

DERF Happy Hour
Keep checking back here to find out where the next DERF Happy Hour will be!
EDITORIAL: I am freakishly confident every sentence below will exceed your expectations.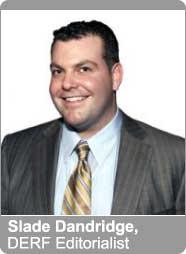 By Slade Dandridge, DERF Editorial Columnist

It's true. I believe you will be impressed with every sentence in this editorial. We're only three sentences in and I believe you are already starting to tell yourself how impressed you are. You are the kind of person who reads a lot so you recognize good work when you see it. I'm not saying every word is perfect. I would never be that arrogant. I'll be the first to admit that occasionally even I could make a better word choice. But when you view each sentence as a whole, I am certain you will view my work as well beyond what you were expecting. To make sure I'm not being overly confident, I actually ran this piece by a few colleagues here at DERF headquarters. Unanimously they said every sentence exceeded their expectations. Those are their exact words! I didn't do anything to influence their comments other than give them the editorial and ask for their feedback. Now that we're in the thirteenth sentence I'd say you are extremely impressed by this piece and you've probably asked a friend or two to read it just to make sure you're not crazy. I am confident your friends agree with you 100%. Some of them may have actually thrown the word "Pulitzer" around. Others have asked if I invented a new form of writing being debuted for the first time ever here in DERF Magazine. To answer that question, yes, this is a new form of writing that I invented. It is called hyper-autobiographical prose. It is characterized as a writing style that is about the writing style. As has been the case throughout history with any new innovation, the true genius of this writing style may be too progressive for the contemporary establishment. Critics may say the work does not have a real point. But you and I both know this perspective merely illuminates their lack of understanding. For now they must live in literary darkness until some day when this writing style becomes accepted as the most important communication vehicle in the entire world. In any case, now that your friends have expressed their high opinion of this work I am certain you are also truly impressed. We are now in the twenty-fifth and final sentence and I believe every single sentence has triumphantly exceeded your expectations.