our breathtaking newsletter
Weekly gloriousness sent to your inbox.
Wednesday, February 19th - 5:00 PM-9:00 PM

DERF Happy Hour
Keep checking back here to find out where the next DERF Happy Hour will be!
EDITORIAL: Itís no secret that I'm pretty much the Tony Soprano of the Kenwood/Madeira area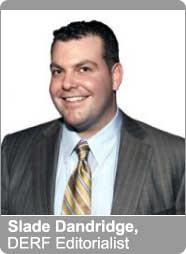 By Slade Dandridge, DERF Editorialist

I'm not saying this with the intention to brag. But it's true. People in the Kenwood/Madeira area consider me their Tony Soprano. I didn't intentionally seek this kind of status in the community. I guess you could say it just sort of developed this way after years of operating in this area. Every morning I have breakfast in the Kenwood Towne Center food court. The food court is where I run the profitable waste management business that I own. During breakfast I meet most of the members of my crew so they can give me envelopes filled with cash. Also, the people of the Kenwood/Madeira area visit me in the food court each morning to discuss their needs. They look to me for protection and special favors. They seek my consultation in union matters. They come to me when they need a Judge to make a favorable decision. I believe I am considered by many to be an important member of this community. Every morning after I finish my business in the Kenwood Towne Center food court I walk to my Therapist's office located in the Towers of Kenwood. I often bring her a fresh cinnamon roll from the CINNABON store in the food court or if it is later in the day I bring her a slice of pizza or delicious pasta salad from the SBARRO restaurant. The people at the CINNABON and SBARRO stores know me well and do not charge me for the food in return to the protection I provide them in the neighborhood.

After my therapy session I usually head back to the food court to pick up something either from the Chick-Fil-A restaurant, Sizzling Wok, or the Jamba Juice store. This food is also complimentary thanks to the protection I provide.
Toward the end of the day I usually like to unwind at the Ruby Tuesday's in the Kenwood Towne Center. Often my mistress meets me there for an appetizer or even a light meal before I go home to my wife at the end of the day.
Related Stories