our breathtaking newsletter
Weekly gloriousness sent to your inbox.
Wednesday, February 19th - 5:00 PM-9:00 PM

DERF Happy Hour
Keep checking back here to find out where the next DERF Happy Hour will be!
KATIE Vs. MEN: What's Your Deal-Breaker?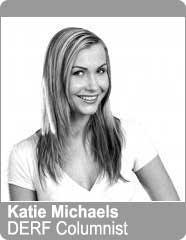 By Katie Michaels, DERF Lifestyle Columnist

You would think that girls have a smaller list of things that would qualify as deal-breakers. Not true. Call it shallow if you want, but our list may surprise you.
Yes, we still believe that it's what's on the inside that counts. That's definitely most important…if you can get there.
I've made reference, at least a few times, to letting out the guys' secrets. Well, I'm feeling friendly today, for whatever reason…the great sex I had this weekend? Maybe. Point is, I'm feeling friendly enough to throw you guys a bone. I'll even make it simple for you and give you a nice little list.
It's a deal-breaker, so run like hell if…
1.
It takes your guy longer to get ready than you - can we say, "metro?"
2.
His teeth glow brighter than Jessica Simpson's - what's next, an audition for a reality TV show?
3.
He has a fake tan - does he get facials and pedicures too?
4.
He struts instead of walks - really, "hun", you're not all that.
5.
He has questionable tattoos (cartoon characters, a design across his lower back, the word "MOM"!) - he's either an absolute dork, or super creepy!
6.
He's skinnier than you - I mean, really, how are you going to have mind-blowing sex if you're stronger than he is? (Yes boys, no matter what those other girls are innocently proclaiming, we do like it rough sometimes.)
7.
He's shorter than you - too Wizard of Oz.
8.
He gets his eyebrows waxed - what a wuss! I'm all for getting rid of that uni-brow, but be a man and take the pain - pluck!
9.
He gets his hair highlighted - again, say it with me…"metro."
10.
His, um, "package" has piercings - I said we liked it rough sometimes…not sadism.
11.
You suggest to him that you have sex in front of a mirror, so you both can watch, and he says, "No." - is he gay?
12. He talks dirty in bed, but when you do, he tells you, with a disgusted look on his face, to stop - can you say, "Prude?" Boys, boys, boys, we reeeally don't like double-standards.
13.
He won't do it with the lights on - by far, the biggest deal-breaker of all - saying no to the mirror is bad enough, but not even wanting to watch for
himself is a HUGE turn-off. Guys, big tip - it's hard to resist being absolutely turned on when we can watch you watch us. Man, I'm nice.
Well, I think that's enough for now. You guys should really thank my boyfriend for this weekend, I guess, lol…I gave you a lot more information than I planned!