our breathtaking newsletter
Weekly gloriousness sent to your inbox.
Sunday, March 1st - 12:00 PM-4:00 PM

DERF Happy Hour
Keep checking back here to find out where the next DERF Happy Hour will be!
KATIE VS. MEN: Are random, bad hook-ups worse than no hook-ups?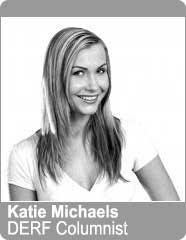 By Katie Michaels, DERF Lifestyle Columnist

Yes, yes, and um, YES!!! Look, we are far from teenagers with raging hormones, still experimenting and discovering the wonderful world of intimacy. We know what works and what doesn't. We know what feels good, what we like, what we don't, what we'll try, what we might be persuaded to try.

Random hook-ups are painfully overrated, and rarely good. Passionate intimacy is a workout - a fabulous, exhilarating, I-can't-wait-to-do-it-again-workout, but a workout none the less. As fabulous as it is, it wears me out. I am actually out of breath by the end of my "workout session." I love that. I love the fact that my entire body just turns to mush for a few minutes, and I'm literally breathing so hard, that it's a struggle to catch my breath. When my boyfriend reacts in the same way, it's a huge turn-on. It just makes me want him more, it turns the intensity up even higher, and the end result for both of us is heightened that much more - which, my goodness, at that point, I'm not just struggling to catch my breath, but gasping for air and trying to keep my eyes from rolling right out of my head!

Girls, I know you don't need to be told why all this plays out the way it does. Guys, please don't be offended, but some of you need to be told again - it's the emotion. Desire, for girls, is based on emotions, not physiology. The more a girl feels loved, wanted, and appreciated, the more she wants to have intimacy, and the better the intimacy becomes.

So, random, bad hook-ups are just not worth it to us. Not only are we not getting physical pleasure, but we aren't getting the emotional connection that is really what makes great intimacy, great. Plus, it's still pretty slutty to have random hook-ups, don't you think? Yuck. Get a battery operated device if you're that hard up.