our breathtaking newsletter
Weekly gloriousness sent to your inbox.
Sunday, March 1st - 12:00 PM-4:00 PM

DERF Happy Hour
Keep checking back here to find out where the next DERF Happy Hour will be!
KATIE VS. MEN: Are We Forgetting Our Bedroom Manners?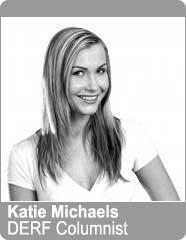 By Katie Michaels, DERF Lifestyle Columnist

So, I've been picking on the guys quite a bit lately. I won't go so far as to apologize, because face it, sometimes they just don't get it. But I will say, sometimes girls, we don't either. You and your guy may have what you think is the best sex anyone could ever have on the entire planet. If you don't think that, something is definitely wrong. There are certain things, though, that once we're comfortable, we forget to do in bed.
Don't assume your guy always knows that you just can't wait one more second. He wants – he needs – to see it and hear it every single time. And no, it's not just, "Oh baby, I want you." No, no, no! The key word here is enthusiasm! Think about it – who were the most popular girls in school? Who did everyone want to date? The cheerleaders!!! (Yes, I was a cheerleader, and yes, I was the captain.) Was it because their cheers were so eloquent and their pyramids were so precise and complex? Um, no. This is what guys were thinking, "If they're that psyched on the football field, imagine the plays they could run in the bedroom…" So, girls, get out your pom-poms. When your guy knows that you love to have sex with him and you're excited about it, not only is it a huge turn-on, but it's an encouraging boost to his bedroom abilities.
Guys are usually the ones to initiate sex all the time. Why? Who made up that rule? A girl? Guys love it when we make the first move every once in awhile. Not every time, but those random, surprise attacks not only send them through the roof, but it lets them know how much we really are into them. After a night out, as soon as you walk in the door, don't wait until you get to the bedroom. Take his clothes off – not soft and slow, but with purpose and drive. They like to be undressed just as much as we do. He's caught off guard, naked, very aroused and now he can't wait to tear your clothes off because he knows you can't keep your hands off of him. Okay, so, you're naked and ready to go. For most, it's pretty easy to get to this point, even if you don't do any of the things I just told you. This next part is where some of you girls need help. Either you really don't know or you're just that selfish.
Guys need to get a pretty obvious, positive reaction from us in bed. If they don't, they usually feel like they're doing something wrong and we really aren't enjoying ourselves. Of course, men are extremely visual, but they also love to hear our reactions. Again girls, how turned on do we get from their "sounds of pleasure" and the things they say to us? Don't hold back. Talk dirty. Tell him what you like while he's doing it, and tell him what you want him to do to you. If he does something that takes your breath away, let him hear it. There's nothing worse to a guy during sex than silence. If he sees and, I can't stress this enough, hears that you are so into him and are just loving every minute, it's just going to make it that much more pleasurable and exciting for both of you.
Don't take your men for granted, girls. If it weren't for them, we'd be hanging out with each other at "fun parties," getting fat on those little pigs-in-a-blanket, and having a drawer full of "toys" to play with, by ourselves. What fun is that? Go find your guy right now and tell him you want to play doctor.