our breathtaking newsletter
Weekly gloriousness sent to your inbox.
Sunday, March 1st - 12:00 PM-4:00 PM

DERF Happy Hour
Keep checking back here to find out where the next DERF Happy Hour will be!
KATIE VS. MEN: What Really Turns a Guy On?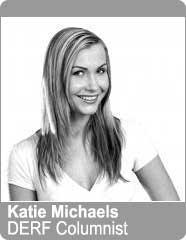 By Katie Michaels, DERF Lifestyle Columnist

We received such a great response from my last article, "Are We Forgetting Our Bedroom Manners?", that I decided to give you girls (who are apparently in desperate need) a few more helpful tips.
We already know that guys are veeery visual. Do you realize just how true this is though? Do you realize how important it is to provide him with as much visual stimuli as possible? Do you realize that it's been proven by some of the top sex experts over and over and over? I'm sure this is true for some of you, I hope so anyway – your guy sees you and he's immediately aroused. What if you could amplify his reaction considerably? Well, you can. Just follow these simple tips, and voila! You'll drive him crazy.
Tip #1: ALWAYS leave the lights on!
Tip #2: Get undressed in another room, but make sure he can still catch a glimpse, by accident, of course.
Tip #3: I've mentioned this before and it's definitely worth pointing out again. Use that mirror! You're on your own here…get creative.
Tip #4: Leave something on – a little skirt, high heels, panties – that relays to him that you are so ready to go that you just can't be bothered with getting totally undressed!
Tip #5: Again, another one that's worth repeating (I bet you haven't done it yet. Shame on you!) – give him that surprise attack and undress him. But wait, let me add to that. Make him sit down and be oh-so-patient, while you very slowly, and seductively, of course, take your clothes off. The suspense will almost be too much for him to handle.
Tip #6: Make sure he can see your facial expressions, especially as your level of arousal increases. Don't ask. They just love it.
Girls, I can only do so much. I know, from experience, these things work. You just have to trust me, take my word for it, be brave, and try them! I promise you'll be pleasantly surprised. Do I need to ask?...playing alone with toys while eating pigs-in-a-blanket, or playing doctor?