our breathtaking newsletter
Weekly gloriousness sent to your inbox.
Sunday, March 1st - 12:00 PM-4:00 PM

DERF Happy Hour
Keep checking back here to find out where the next DERF Happy Hour will be!
KATIE VS. MEN: Exploring the strange world of posers and fakes.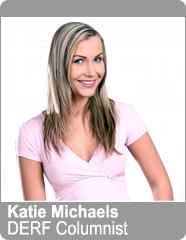 By Katie Michaels, DERF Lifestyle Columnist
Posers live in their own world. We're all guilty of hanging with them, socializing with them, and even dating them. All of us brush up against that strange subculture of fake people. Why do we do we sometimes get drawn into it? I don't have an answer for you. It's like watching a soap opera – we just get hooked. It's not reality, we know that, but for whatever reason, we become fascinated and sucked in slowly, until we finally discover that weird crack in the facade.
We girls seem to be attracted to they type of man that draws us in to a seemingly perfect world that just doesn't exist. We know it's a bad place but we go anyway. We're smart girls but for whatever reason, we still have this fantasy that people always tell the truth, everyone really is as successful as they say, and people's feelings toward us are genuine. Sometimes all of us can be wrong about this. We really have to pay close attention not only to the people around us but to our instincts about them.
Let's look back at one of my pevious articles, "How to Tell if He's One of the Good Guys" - those are the minimum qualities we girls look for, the minimum that we need! Come on, if you aren't at least getting those, run, run, run away!!! There reeeeeally are nice guys out there, I promise! Don't settle, you'll regret it.
This is hands-down, the best advice I can and will ever give. Forgive, forget, and love unconditionally (but don't be walked on). Be genuine, no matter what. Even if you get burned a few times, sooner or later, it will pay off. Don't hold back, don't be afraid. Revenge is NOT sweet. Eventually, truth and honesty really do always win. You'll be a happier person for it. People that admit their mistakes and apologize learn and grow. It's a fairytale. The place doesn't exist.
All that "amazing sex" I talk about means nothing if it isn't with a person that respects and loves you. I'm all for wild and crazy, but not trashy and meaningless. Girls, respect yourselves. Guys, be men and respect us too. What a shame, and how sad would it be to be stuck living in that awful place where people really never find true happiness…far, but not too far away.