our breathtaking newsletter
Weekly gloriousness sent to your inbox.
Sunday, September 6th - 12:00 PM-6:00 PM

DERF Happy Hour
Keep checking back here to find out where the next DERF Happy Hour will be!
KATIE VS. MEN: If your man likes sock puppetry, it's time to start pretending you like sock puppetry.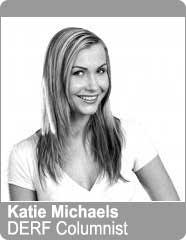 By Katie Michaels, DERF Relationship Columnist
[See note under of this article. Katie needs input on upcoming articles.]

Sometimes we hate the things our men are interested in. But we all need an occasional reminder about how essential it is for us to express a sincere interest in the interests of our men. This is a simple concept but it can be REALLY difficult to accomplish. Here are few motivating pointers on how to pull it off.

Understand I was using sock puppetry as an extreme example to make a point. If you find a man that really has an interest in sock puppetry I guess my advice would be to find another man. Please don't ever express any interest in sock puppetry. It doesn't matter what his interests are: Antique tool collection, high school lacrosse, violent mafia movies, obscure music, expensive electronic devices, gimmicky business propositions, vintage soccer cleats, juvenile and/or vulgar comedy movies, etc, etc. You name it. Most men have some really strange interests. They buy and collect strange things. With every new man we date we usually become exposed to a whole new world of strangeness. At the start of most relationships I find myself asking, 'What bizarre stuff am I gonna have to put up with from this guy?'

It's easier for men because they know what to expect from us. We are simpler and more predictable in our interests: Clothes, make-up, hair and skin products, woman's magazines, jewelry, perfume, diets, flavored coffee, nice stationary, flatware, romantic comedies, pilates/yoga, greeting cards. It's a pretty simple list. I realize I cannot speak for all women so let's just say I'm speaking for 80%. (The 20% of you that like to buy vintage British soccer cleats on eBay, you're on your own.) We don't expect or care if men express a lot of interest in these things because we talk about them enough with our girlfriends. That's all we need. We need them to care about our lives but we don't care if they engage in discussions about toner, foundation, or heat-activated shine enhancer.

So we have to find a way to engage in the interests of our men. Sometimes we fall into the trap of feeling like it's good enough just not to object to their strange interests. This doesn't work. The reason is men are very motivated by our opinions of their interests. It is very important for men to feel that we admire them for their interests. They don't have the opportunity to discuss their hobbies and interests with their friends as much as you might think. Often we are all they have when it comes to getting personal admiration. Please never forget this. If you don't pretend to be fascinated with the extensive research he just completed about home theater remote control devices, some other woman will....and he just may feel a stronger connection with her.

Take note there is a special rule for sports. Men understand a lot of women simply don't have a sports gene. If you are not naturally into sports, men don't expect you to spend hours boring yourself to death trying to figure it out. So give yourself a break in the genre of sports related interests.
-----------------------------------------------------------------------------
Send me your comments! KatieM@derfmagazine.com
I am always gathering material on upcoming articles. Please send me any thoughts you have on the following topics/articles:
> 6 reasons why you shouldn't try to change him
> Are his friends are more important to him than you or does it just appear that way?
> Do you pressure negatively him without realizing it?
> Which type of girlfriend should you keep away from your boyfriend?
-----------------------------------------------------------------------------
Text 'derf' to 313131 to get occasional updates from Katie, invites
to secret Derf events, last minute updates, and free stuff!
-----------------------------------------------------------------------------