our breathtaking newsletter
Weekly gloriousness sent to your inbox.
Sunday, March 1st - 12:00 PM-4:00 PM

DERF Happy Hour
Keep checking back here to find out where the next DERF Happy Hour will be!
In public I must appear aloof to prevent my fans from falling in love with me.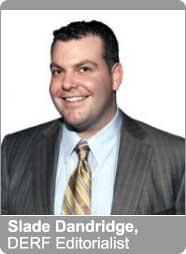 By Slade Dandrigde, DERF Editorialist

In my business when a reader falls in love with a super popular columnist, it is called transference. It is similar to how a patient falls in love with their Psychiatrist. Highly successful columnists have to be very careful. There may have been numerous cases already in which very attractive woman have fallen deeply in love with me. I have no way of proving this. It's more of an intuition I have. Often in public if a woman is not looking at me, that means she is intentionally resisting every temptation to look at me because she does not want to appear too obvious. I see hundreds of women doing this to me everywhere I go. The only logical conclusion is many of them have fallen in love with me.

Perhaps the words in my column cast a sort of amorous spell on them until they can't resist it any longer. I see women everywhere: In the mall, driving in their cars, at coffee shops, etc. And almost all of them are intentionally avoiding looking at me. In fact I almost never catch a woman looking at me because they are very clever. They are very skilled at looking at me only when I am looking away. Many of them may be hoping for innocent casual contact with me that may lead to something more meaningful. But others may be caught up in a dangerous obsession that may eventually place me in harm's way.

Let's face it my column has an amazing reach. In my judgment women probably see me as confident, intelligent, and irresistibly appealing. I know that women are extremely attracted to men with men who have the ability to craft words into profound meaning. I have that ability. I will admit it is unusual I have never received any phone calls, emails, or personal visits from any female fans. Clearly, this is because many women are shy. Most women understand that I am very popular among women and they understandably feel intimidated by this. I really do not enjoy intimidating women but I am afraid it may be necessary to keep a professional arms length between my fans and I.