our breathtaking newsletter
Weekly gloriousness sent to your inbox.
Friday, January 24th - 4:00 PM-9:30 PM

DERF Happy Hour
Keep checking back here to find out where the next DERF Happy Hour will be!
Soldier's reunion with spouse triggers post domestic stress syndrome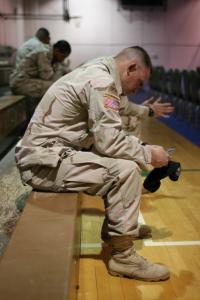 CINCINNATI - Local serviceman, Marine Sgt. Rob Sinclair, returned home from active service this week and collapsed when he saw his wife waiting to greet him on the tarmac. Sgt. Sinclair told reporters, "When I stepped off the transport plane and saw my wife, my heart began to race just as if I was in a combat situation. A rush of terrifying pre-war memories washed over me." Sgt. Sinclair explained the flashbacks included horrifying extended periods of spooning, torturous discussions about feelings, and hostile criticism regarding poor listening and empathy skills.

Psychologists say the episode is caused by a condition called post domestic stress disorder. A recent military study indicates a large percentage of returning soldiers feel a high level of trepidation at the prospect of dealing face-to-face with their spouses. Sgt. Sinclair commented, "My wife greeted me warmly with a hug and kiss but I could tell in the car on the way home she was mentally preparing an unachievable list of things for me to do around the house."

Soldiers who find it difficult to adjust to the pressures of domestic life often request an immediate combat reassignment. Sgt. Sinclair stated, "If I could get sent back on a second combat tour that would give me some breathing room. The combat environment is appealing because I don't have to live with the enemy." Sgt. Hardin further explained after he finishes cleaning the basement, building a deck, remodeling the twin's room, and replacing the gutters, he plans to call his C.O. and ask for immediate return to combat duty.

As a result of cases like Sgt. Sinclair's, the U.S. Military has taken measures to aid soldiers in the return to domestic life. Officials say soldiers are required to participate in a domestic simulation program prior to leaving combat duty. The program is designed to desensitize the soldier by placing him in realistic but stressful domestic situations. Each soldier must achieve a score that demonstrates an acceptable tolerance to domestic stress. Reportedly a high percentage of soldiers fail the module that presents an unachievable household things-to-do list. Others exhibit difficulty handling the intense drills including being woken up late at night to talk about feelings while spooning.