our breathtaking newsletter
Weekly gloriousness sent to your inbox.
Sunday, March 1st - 12:00 PM-4:00 PM

DERF Happy Hour
Keep checking back here to find out where the next DERF Happy Hour will be!
Children get Santa's attention with Powerpoint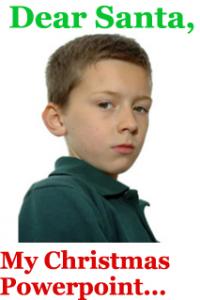 BONUS: See actual Powerpoint from Jimmy Morgan, an emotionally troubled 9 year old.

NORTH POLE - Kids around the world are using technology this year to compete for Santa's attention. The U.S. Post Office reports Santa has received a record number of Powerpoint presentations from children hoping to make their letters stand out among the millions of letters sent to Santa. Most Powerpoint presentations received by Santa include a large list of requested gifts. Many children also include a detailed description of good behaviors that justify Santa's generosity.

In one troubling case, an emotionally unstable child, Jimmy Morgan sent Santa a Powerpoint with an unreasonably large gift list in a spreadsheet format. The presentation also promised several threatening actions if Santa fails to deliver the requested gifts (see actual Powerpoint).

Many children also include testimonials to help convince Santa they are worthy gift recipients. Poor economic conditions have prompted many children to tug on Santa's heart strings by highlighting the financial hardships they have endured with their families. Gut-wrenching stories of broken homes, bankruptcies, foreclosed homes, and substance addiction are displayed throughout the pages of many Powerpoint files.

A spokesperson for Santa said the requests this year are overwhelming. To ease the review process, the North Pole IT department is reportedly beta testing an online database that will allow children to submit their annual gift list and justification in a more consistent format. Until the new system is operational Santa will continue to respond to individual Powerpoints via email.