our breathtaking newsletter
Weekly gloriousness sent to your inbox.
Sunday, March 1st - 12:00 PM-4:00 PM

DERF Happy Hour
Keep checking back here to find out where the next DERF Happy Hour will be!
Corpse found wrapped in KEEP AMERICA BEAUTIFUL banner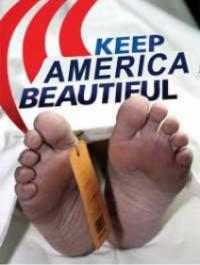 WASHINGTON, D.C. - Workers at the National Center for Urban Renewal discovered a corpse this week in the alley behind the building wrapped in a large KEEP AMERICA BEAUTIFUL vinyl banner.

Although authorities say it is common for murder victims to be wrapped in material such as carpet or plastic sheeting, this is the first known case of body found wrapped in such an ironic material.

Executive Director of the Keep America Beautiful campaign, Linda Holterhoff commented, "Associating our banners with dead bodies is a setback for our program. We urge America's murderers to use other materials for wrapping dead bodies. Our banners are intended to represent positive civic action."

To raise awareness of this issue, Holterhoff has ordered new banners for a secondary campaign entitled, "Don't Wrap Dead Bodies in Keep America Beautiful Banners." The banners for this campaign will be displayed prominently in cities throughout the United States. Holterhoff warned that wrapping a body in these new banners will be devastating for the program.

Officials in many cities have agreed to cooperate with the initiative by making used carpet available at local community centers for murderers who need wrapping material for dead bodies.