our breathtaking newsletter
Weekly gloriousness sent to your inbox.
Sunday, March 1st - 12:00 PM-4:00 PM

DERF Happy Hour
Keep checking back here to find out where the next DERF Happy Hour will be!
Area slut still feeling glow of Halloween self-esteem boost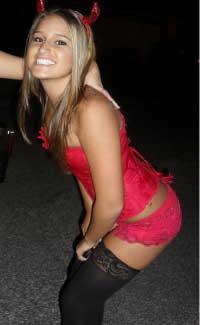 BATAVIA, OH - Area slut Brittany Thompson is still on a high from being the recipient of so much ogling, leering, and occasional inappropriate touching over Halloween weekend. She expects the resulting self-esteem boost to last until at least Thanksgiving.
"Everything just lined up perfectly," explained Brittany. "Halloween being on a Sunday gave me a chance to wear three different outfits. Three times the sluttyness, three times the fun, three times the chance to fill up my inner void with positive reinforcement from creepy guys."
"I wasn't really expecting it," said Brittany. "I thought it would be just another Halloween, but this has turned into the perfect storm of self-esteem building. Friday night I had guys lining up to take their picture with me as a sexy vampire nurse. Saturday I was a sexy devil, and almost caused a car accident in front of the bar after I bent down to pick up my cigarette. Then, Sunday, I had a bunch of neighborhood Dad's bring their kids back around for candy to my apartment like six times each. It wasn't the Tootsie rolls, it was the sexy construction worker outfit!"
The boost in self-esteem comes at an excellent time for Brittany as she is currently job hunting. "It would be nice if I could wear something with a little more fishnet and spandex to my job interviews, but I'm flying high enough now that I don't think I need it. I just don't understand why so many girls spend money on therapy when all they have to do is take a trip to Cappel's."
Psychologist Jeffrey Alexander explains that the self-esteem boost should not be considered healthy. "Dressing up in a costume once a year is not a replacement for....Whoa! Did you see the rack on my secretary? I've got some costume ideas for her next year!" Dr. Alexander then explained he could comment more intelligently on the case if he could view pictures of Brittany on Facebook.

Brittany is quick to point out that Halloween costumes are not her only source of self-esteem. "I won a science fair my senior year of high school. When I went up to get the award, I shook the principal's hand and my boob popped out. I am still pretty proud of that."