our breathtaking newsletter
Weekly gloriousness sent to your inbox.
Sunday, March 1st - 12:00 PM-4:00 PM

DERF Happy Hour
Keep checking back here to find out where the next DERF Happy Hour will be!
COMMUNITY: Volunteers build meth lab wheel chair ramp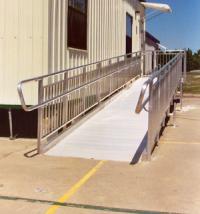 INDEPENDENCE, KY - Members of the community rallied around their local meth lab to build a much needed wheelchair ramp, providing access to many who were unable to visit in the past. The ramp will also make the meth lab compliant with the American's with Disabilities Act.
"I am overwhelmed by the support of this community," said methamphetamine manufacturer Michael Ernest. "They came down here and pitched in like it was an Amish barn raising. In fact, some of them looked kinda Amish, with the beards, rope belts and wild eyes."
Ernest's meth lab is located in a mobile home, and access was difficult not only for some of his customers, but for the proprietor himself. "I got my right knee torn up a bit in a minor meth explosion," said Ernest. "That big step from the milk crate onto the concrete slab was a killer, especially on cold mornings. Now I can just walk right up the ramp. Hopefully, I'll have a customer want to pay for their meth with an old wheelchair and I'll start using that to roll in."
"I hope people see this as a sign that there is goodness in the world," said Richard Todd, who helped build the ramp. "I came out here today to do a good deed, and I don't expect anything in return. Except maybe some meth. Meth would be really nice right now." Todd also went on to point out that the wheelchair access will now allow his elderly mother to visit the lab while driving her scooter. "Now that she can use the scooter at WalMart and the meth lab, her life is complete.
Related Stories