our breathtaking newsletter
Weekly gloriousness sent to your inbox.
Wednesday, February 19th - 5:00 PM-9:00 PM

DERF Happy Hour
Keep checking back here to find out where the next DERF Happy Hour will be!
New Florence KY church to be called Crossroads Y'all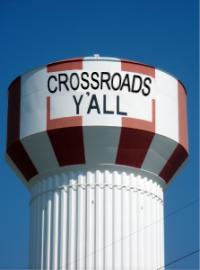 FLORENCE, KY - After announcing plans to open a branch of the Crossroads Community Church in Florence, church leaders have said that the new location will be called "Crossroads Y'all."

Florence city manager Kelly Stamper has long expressed desire to have a Crossroads franchise located in the city. "This will be a strong boost to Florence," said Stamper. "We had really hoped to get an IKEA, but a similarly sized fake church is almost as good. They may not have meatballs and furniture, but they do have great free coffee, powerfully spiritual rock music, and whatever the heck else goes on there."

"We are thrilled to be expanding to Florence," said Crossroads multi-site associate director of communications and accoustic guitar player Ronald Ervin. "We've wanted to expand our brand into the Commonwealth of Kentucky. Florence was the perfect option because it has enough space for the enormous tarmac of parking we require for our customers. There will also be room for additional attractions we are adding specifically for the Kentucky location including a methadone clinic and a NASCAR screening room."

The church will be located in the former home of The Old Time Pottery Store and is expected to appeal to the same customer base. The new name was decided on after extensive focus group testing at the BOOST meeting space in downtown Cincinnati. "Crossroads Y'all is an exciting new development for our fake church brand," said Ervin.

Crossroads Y'all in Florence joins Mason and Oakley as Crossroads locations. The fake church previously considered expanding into Eastgate, but plans failed when Jungle Jim's acquired the big box store location they had been considering.

Crossroads has not ruled out expanding to other areas of the region. They've expressed some interest in the Washington Court House and Dry Ridge outlet mall markets, where they would offer irregular and overstocked sermons, as well as free coffee that is slightly past its expiration date.