our breathtaking newsletter
Weekly gloriousness sent to your inbox.
Sunday, March 1st - 12:00 PM-4:00 PM

DERF Happy Hour
Keep checking back here to find out where the next DERF Happy Hour will be!
Prediction of world's end updated to sometime in next 4000 years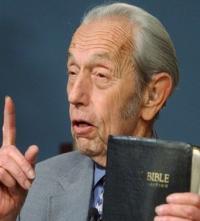 OAKLAND, CA - Though his warning of rapture and the end of the world did not come to pass on May 21st, preacher Harold Camping has issued a new prediction. Camping now says that he is positive that the world will end sometime in the next 4000 years, and that it will most likely occur sometime between Tuesday and Saturday.

"The signs have never been more clear," said Camping. "This is the real deal. Rapture. Death. Destruction. It's all coming our way, and it is going to happen on a Tuesday, Wednesday, Thursday, Friday, or Saturday."

Camping's followers are once again on high alert after hearing the news. "Harold seems especially sure of himself this time," said believer Arnold Beyes. "I'm going to have to send him some money, as soon as I get some more. I sorta liquidated everything after the last prediction. It's going to be expensive paying for up to 4000 years worth of billboard advertising."

Camping also said that he did not know if the end of the world would come in the morning or evening, though he was hoping that it would happen in the late evening, so people would still have the chance to watch Survivor.
Rev. Camping's prediction is in agreement with those made by other biblical scholars, most notably teen singing sensation Rebecca Black who insists that the world will end on a Friday.