our breathtaking newsletter
Weekly gloriousness sent to your inbox.
Wednesday, February 19th - 5:00 PM-9:00 PM

DERF Happy Hour
Keep checking back here to find out where the next DERF Happy Hour will be!
Few equatorial nations offer relief funds for Cincinnati heat emergency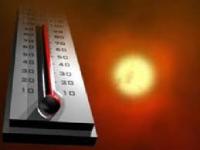 KENYA - After declaring a heat emergency in the strongest possible terms, the city of Cincinnati has been disappointed by a lack of donations and sympathy from the world's equatorial nations.

"I just hope these countries know that we're gonna remember this," said Cincinnati Mayor Mark Mallory. "Emergency is a very specific word. It means we need help. I've actually had to slightly loosen my tie a few times while walking outside it's been so oppressive. And I switched to drinking iced coffee only. Yet, I've not seen a single dime from Sudan, Kenya, Brazil, not a one of them. Next time they have a famine or a genocide or something, they'd best not come running to the Queen City for help."

Officials in Nigeria also did not respond to the City's declaration of emergency. Although, a representative of a Nigerian bank did send a letter to the mayor letting him know that he may be entitled to a large fortune. The mayor would not comment on the letter, except to say that he will be pursuing the matter privately, so Republicans do not attempt to take any of the proceeds away from him.

Response has also been underwhelming here in the United States. "We were hoping to get some support from Alabama or Georgia or Mississippi," said health department spokesman Kenneth Simpson. "But the only call we got was from Florida, and we're pretty sure we heard someone in the background snickering the whole time."

While city officials wait for what they hope will be an influx of help and support during this emergency, they've also sent requests for aid to the United Nations, the European Union, as well as Sally Struthers and Marlo Thomas.